Ed Walters Records
318 W. Sylvania Ave.
Neptune City, NJ 07753
(note new address as of May 1, 2001)
e-mail: edwalters@hotmail.com
.midvale.
Does anyone remember when they first heard a certain song, and it just engulfed them, like emotionally? while i was at a show, i was thumbing through some records, and noticed a seven inch by this band midvale. the name was familiar because i remembered coming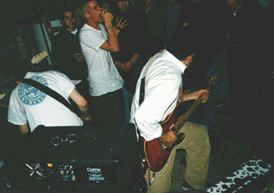 across their incredible looking homepage, so i went with my gut and shelled out my last three dollars on this band i had never heard. it was probably the best, most worthwhile three dollars i ever spent...so i sort of forget about the record until we get home. i figured i'd give it a listen to see what it was like....you ever put on a record, and not listen? you know, sort of make it background music? well that was my intention. now anyone remember the movie "back to the future"?, when marty gets blown like through a wall? yeah, that was me...everytime i listen to it, even to this moment, i get that same feeling. every chord beat, lyric is just saturated with this incriedible emotion. "what does this have to do with midvale as a band?" is what you're probably asking yourself. midvale, to me at least, is more than just another dumb hardcore band. if you sit down and read the lyrics and listen hard, you get more out of it than just some self-serving emotional hardcore...with a surplus of bands today that deal on a very personal level, which isn't bad at all, midvale sort of takes that to a whole new level. this is a band that mixes personal lyrics with a sort of political basis...i know a lot of people hear the word "political" and get scared off, but the way they do it, they it's not a strictly unrelatable concept. so the moral of the story is, write to ed walters records, get the midvale record and then go to the band, to the source and get the big picture... matthew wheelock/ .a boy named...'zine...


"First Aid for Airmen" single:

1. storybook exhaustion
2. mistaken for priceless
3. what a child lives, he learns


press run: 900 black/100 clear blue
Price: $3ppd U.S.A/ $4ppd Mexico & Canada/ $5ppd World
Make money orders payable to Michael Dailey not Ed Walters Records.
No Checks!!!